All Your Water Heating Needs – Advanced Services Offers Tankless Water Heater And Standard Water Heater Installation, Repair and Maintenance
Advanced Services is pleased to announce that we now offer installation, repair and maintenance of both standard water heaters and tankless water heaters, giving you all the resources you need for your water heating needs in Western Washington. Water heaters are one of the most important devices in any household, but they can also be one of the most overlooked devices if you don't know how to maintain them correctly or aren't aware of what to look out for when they aren't working properly.
Why Get a Tankless Water Heater
You might be considering a tankless water heater for your home or business if you need to replace your current one and there are some benefits and advantages that accompany that decision. Tankless water heaters offer many benefits that may make them the best choice for your particular situation. These include:
A tankless water heater can often be installed in an area where a tank model cannot because it does not require the extra room. This may be beneficial if you have limited space available on your property or in your building.
A tankless water heater can be installed with any type of fuel, including natural gas, propane or oil, while a traditional water heater must use natural gas or electricity to function properly.
Tankless water heater can be more energy efficient than a standard water heater.
And finally, tankless water heaters offer endless hot water – no need to worry about running out of hot water anymore!
Tankless water heaters are not everyone's first choice, but we would be happy to walk you through the pros and cons.
Water Heaters
At A Advanced Services, we install, repair and maintain tankless and standard water heaters. We can provide you with the best water heater for your space and budget. Plus, we will help you figure out how to conserve the most amount of water possible with your water heater choice so that you can save on your monthly bills.
Water Heater Repair & Service
Water heater service is essential to the longevity of your water heater. Our team of experts offers water heater repair and service to help our customers get the most from their water heating system. With our full-service and maintenance options, you can know that we will help you get the most efficient life out of your water heater system. All you have to do is call us and we will take care of everything!
Water Heater Maintenance
Water heaters need to be maintained just like any other piece of mechanical equipment. During an inspection, we can find parts that are worn or damaged so they can be replaced before a failure occurs. We also offer water heater repairs for those times when something goes wrong with your system. At A Advanced Services, we pride ourselves on delivering the best customer service experience in the industry.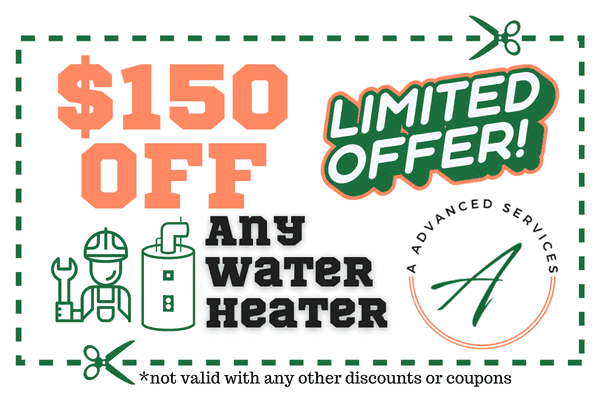 University Place
Fircrest
Steilacoom
South Hill
Spanaway
Parkland
Fife Sumner
Buckley
Graham
Contact Us
If you are dealing with any type of water heater problem, please call us – we're here for all those water heater installation, repair and service needs. We understand that a lack of hot water can be stressful and we're standing by to help.