Living in a rural area or owning a property without access to a public sewer system often means having a septic tank on the premises. Proper septic system maintenance and cleaning are essential to ensure its efficient operation. Selecting an appropriate
septic company in Auburn
is vital in keeping the septic system well-maintained. This article will cover some essential factors to remember while choosing a septic service provider.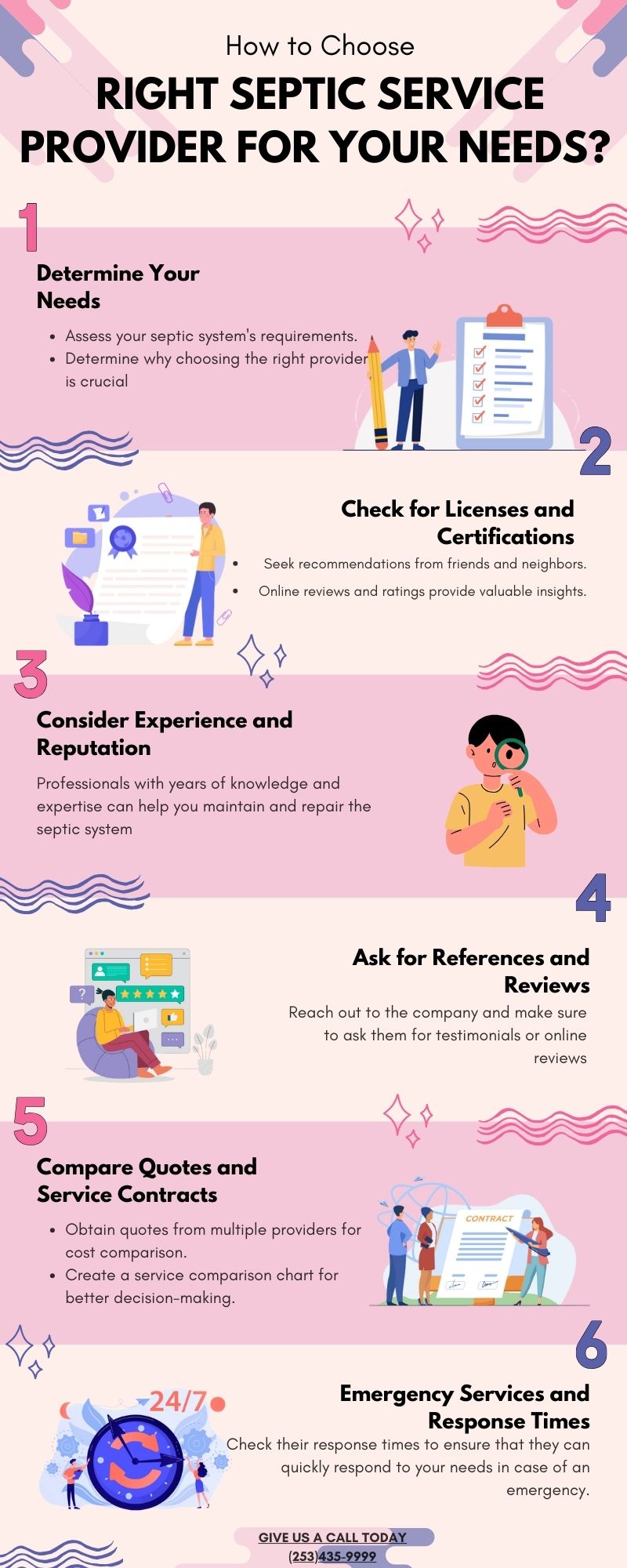 Determine Your Needs
To determine your septic system needs, you should consider several factors, such as:How big and old your septic system is:
The quantity and frequency of upkeep and cleaning will depend on the size and age of your septic system.
How many people live in your home? Your septic system must be maintained more frequently the larger your household.
Your water usage: If you use a lot of water, you might require more frequent septic system maintenance. If you entertain guests frequently or have a home-based business, you may need to have your septic system serviced more frequently.
Any particular difficulties or worries: You might need to have your septic system serviced more frequently or make repairs if you've observed any issues, such as slow drainage or unpleasant odours.
You may identify your septic system needs and select a service provider who can meet them by taking these variables into account. To prevent expensive repairs and to make sure that your system is operating properly, it is crucial to get your septic system maintained on a regular basis.
Check for Licenses and Certifications
The
septic company in Bonney Lake
you choose should have essential licenses and certifications to operate in your area. Check with your local regulatory authority to ensure your chosen company has the required licenses and certifications. This will ensure that you are working with a qualified and experienced professional who is well-versed in septic system regulations.
Consider Experience and Reputation
In Tacoma, the septic company's experience, reputation, and past track records are essential factors you must consider when choosing the septic system provider. Professionals with years of knowledge and expertise can help you maintain and repair the septic system.Apart from all this. Septic system service providers with a good reputation are considered to be wise alternatives to be chosen by you. You can do your own research work about the company's reputation, work ethics, deliverables, and online reviews. You can always ask all your friends, family, or neighbors for a recommendation.Working with a septic service provider with a solid reputation and a history of delivering top-notch services is crucial. Knowing that the septic system is in competent hands and will be regularly maintained and serviced will bring peace of mind.
Ask for References and Reviews
If you want to gauge the quality of the
septic company in Olympia,
then consider asking for the references from past clients. Reach out to the company and make sure to ask them for testimonials or online reviews. It will help you get an idea of their level of experience, the quality of the service, and overall customer satisfaction.
Compare Quotes and Service Contracts
It is essential to compare quotes and service contracts from different
septic company in Tacoma
when choosing one. To do this, you need thoroughly evaluate the costs and services provided by each company by requesting estimates from at least three separate ones. The cheapest option might not always be the best, so bear that in mind. Additionally, seek for a business that provides a thorough service contract that includes regular upkeep, repairs, and emergency services. It's important to carefully study the contract and comprehend the service's inclusions and exclusions.
Look for Emergency Services and Response Times
Septic system problems can occur at any time, which is why it is important to look for a septic service provider that offers emergency services. Check their response times to ensure that they can quickly respond to your needs in case of an emergency.
Check for Insurance and Warranties
Finally, make sure that the septic service provider you choose has the necessary insurance coverage and warranties to protect you in case of any damages or any accidents that may occur during the service. Ask for a copy of their insurance policy and warranty terms to ensure you are fully protected.
Conclusion
Selecting a suitable septic service provider can be a challenging job, but if you take into account the factors mentioned earlier, you can ensure finding a dependable and skilled expert to handle your septic system requirements. Since 2006,
Advanced septic and construction services
have provided services in
Bonney Lake, Auburn, Tacoma, Olympia
and beyond. We believe in delivering our services in a quicker manner at an affordable cost. It is crucial to conduct proper research and be diligent before finalizing your decision. Your septic system plays a crucial role in your property, and it deserves excellent care. We understand all the needs of our clients, so for more information related to our services,
contact us today
.